Waterfowl Hunting 
Bird hunters flock to the Klamath Basin (sorry couldn't resist the pun). Biologists estimate that 80% of the birds in the Pacific Flyway stop in the Klamath Basin. That's a whole lot of beaks! With the basins lakes, wetlands, rivers and ponds the water attracts great numbers of birds and the variety is fantastic. From the big canadian honkers to tiny (and fast!) teal and a whole lot in between variety is the name of the game. That's true of terrain too. You might hunt a flooded grain field, wetlands, lake or potato field with ROE guides. We're happy to visit with you about options!
In the heart of the Pacific Flyway, the area is famous for its goose and duck hunting. Our home base is the city of Klamath Falls, Oregon which is located approximately 6 hours north of California's bay area and 5 hours south of Portland Oregon.
Our mode of operation is simple. Scout hard every day and then set up where the birds were the day before each hunt. Hunt locations are not predictable. We never know where we will hunt day to day because of our scouting regime and the changing bird patterns. We want every option available to us available for you and the guides choose the hunt location based on scouting and guide experience. A variety of grain, pasture marsh and pond hunting are available on refuges and private ranches.
We hunt a wide variety of terrain and have a variety of equipment to meet our hunting needs. For field hunting we use individual Final Approach blinds. We also depend on lay-out boats when necessary or a 20-foot custom hunting boat with blind and Mud Buddy motor for marsh and lake hunting. We use a variety of decoys depending on the situation. Sometimes we use six decoys in a spread and sometimes we use 200.
Each hunt with ROE Outfitters is guided. Your guides are dedicated sportsman and have a passion not only for hunting waterfowl but for teaching and guiding others in the sport. We have seasoned waterfowl guides ready to guide your hunt.
REGULAR SEASON
Duck and Goose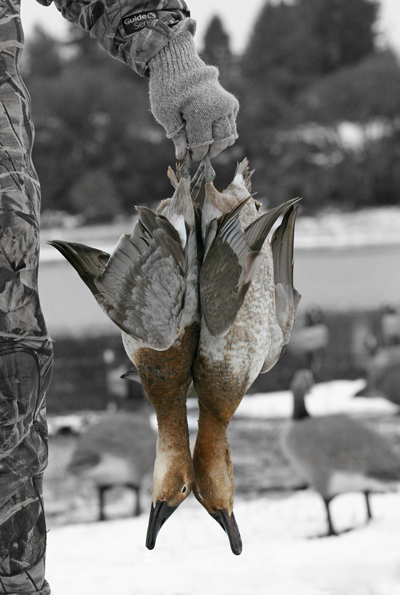 In general we find that we shoot primarily ducks in October along with whitefronts and local Canada geese. As November rolls around along with lots of duck shoots, the goose migration starts to bless us and usually gets going heavy from mid-November through January. As the open water freezes in December and January we find ourselves shooting mainly Canadian Geese, Mallards and Widgeon as most of the other ducks and Whitefronts move on.
SPRING GOOSE SEASON
Due to a large number of specks in our area, fish and wildlife is allowing a special spring hunt once again in the Klamath Basin only. These birds do a lot of damage to area fields and it has become necessary to thin their numbers. We will be guiding this season from mid February through early March. Space is limited so please call soon to book your trip. Previous years have been fun and productive hunts. Hunting is on private property only. Check our quick facts on this page for season dates and bag limits.