Mountain Lake Fishing Trips
Fishing is a sport that families and friends can really enjoy together. It is a chance to celebrate each other's successes and encourage each other on missed opportunities. Lake fishing in the Klamath Basin is an excellent way to spend a day relaxing with a variety of ages. We welcome fisherman of all ages. This trip is exciting and challenging enough for even an experienced fisherman yet with the help of our kid friendly guides, beginner friendly. Youngsters ages 4 and up will find our family fishing trip a welcome adventure.
Fishing can be overwhelming if you don't have the experience or gear to go it alone. People often wonder what do I do with the fish once I catch it? How do I clean it? How do I know which ones I can keep and If I can't keep it, how do I release it? Or maybe you could use a break from fixing tangles and tying hooks all day yourself. Need to catch at least one fish with your kids? Be a hero and take your friends and family out on our 22 foot jetboat with an experienced, knowledgeable, friendly guide. This is a perfect opportunity to have fun fishing, learning and maybe even hook your kids into a lifetime passion of family fun.
All gear is supplied. No experience is necessary and your guide will clean your fish if you would like to keep some. Below are the lake options. If you have the time we recommend a day on each lake!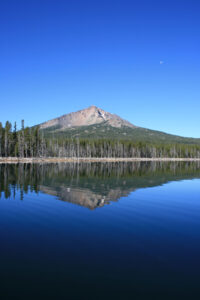 4 MILE LAKE
Nestled near the top of the Cascade Mountain Range, 4 Mile Lake sits at the base of Mount McLaughlin, This volcano looms over this gin clear lake that is filled with rainbow trout, brook trout, lake trout (mackinaw), and kokanee (a landlocked sockeye salmon). This is a consistent fishery for us. Fish are averaging 15-24 inches with 10-20 fish days the norm.
LAKE OF THE WOODS
What can we say? This is our go to lake for people who wish to catch large numbers of fish. Kokanee (a landlocked sockeye salmon) are our main target. These tasty fish readily bite our offerings. It is not uncommon to have 3 or 4 fish on at the same time. Rainbow and brown trout can also be caught on this trip, making this fishery a riot. Rainbows typically run 2-5 lbs, browns 1½ to 9 lbs, and kokanee 11-14 inches.
All tackle and rods are supplied. Your guide will even clean your catch and provide you with a recipe for preparing your fish. Fishing licenses are not included but can be purchased from the ROE office. Children 12 and under do not need a license to fish. Half day trips are available.  Boats can accommodate up to five people for lake fishing trips.